Blog
Christmas (2019) is coming!
2019-11-24
It's nearly Christmas and something terrible has happened: while out on a test flight, Santa's sled was damaged and Santa, Rudolph and Blitzen fell to the ground over the Advent Isles. You need to find Santa and his reindeer before Christmas is ruined for everyone.
You have gathered one inhabitant of the four largest Advent Isles—
Rum
,
Land
,
Moon
and
County
—and they are going to give you a series of clues about where Santa and his reindeer landed. However, one or more of the islanders you have gathered may have been involved in damaging Santa's sled and causing it to crash: any islander involved in this will lie to you to attempt to stop you from finding Santa and his reindeer. Once you are ready to search for Santa, Rudolph and Blitzen,
you can find the map by following this link
.
Each of the clues will be about Santa's, Rudolph's or Blitzen's positions in Advent Standard Coordinates (ASC): ASC are given by six two-digit numbers with dots inbetween, for example 12.52.12.13.84.55. For this example coordinate, the islanders will refer to (the first) 12 as the first coordinate, 52 as the second coordinate, (the second) 12 as the third coordinate, 13 as the fourth coordinate, 84 as the fifth coordinate, and 55 as the sixth coordinate.
To find a point's ASC coordinates, split a map of the islands into a 9×9 grid, then number the rows and columns 1 to 9: the first two digits of ASC give the vertical then horizontal position of a square in this grid. The next two digits then give a smaller square when this square is then itself split into a 9×9 grid, and so on. An example is show below.

Behind each day (except Christmas Day), there is a puzzle with a three-digit answer. Each of these answers forms part of a fact that one of the islanders tells you. You must use these clues to find Santa and his two reindeer.
Ten randomly selected people who solve all the puzzles, find Santa and his reindeer, and fill in the entry form behind the door on the 25th will win prizes!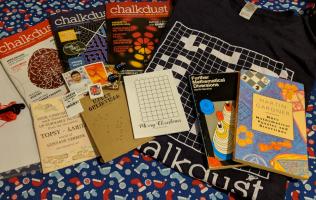 The winners will be randomly chosen from all those who submit the entry form before the end of 2019. Each day's puzzle (and the entry form on Christmas Day) will be available from 5:00am GMT. But as the winners will be selected randomly, there's no need to get up at 5am on Christmas Day to enter!
As you solve the puzzles, your answers will be stored. To share your stored answers between multiple devices, enter your email address below the calendar and you will be emailed a magic link to visit on your other devices.
To win a prize, you must submit your entry before the end of 2019. Only one entry will be accepted per person. If you have any questions, ask them in the comments below or on
Twitter
.
So once December is here, get solving! Good luck and have a very merry Christmas!
Similar posts
Comments
Comments in green were written by me. Comments in blue were not written by me.