Blog
Christmas card 2020
2020-12-03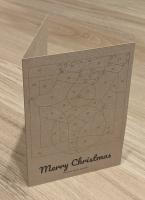 The card looks boring at first glance, but contains 9 puzzles. By splitting the answers into two digit numbers, then colouring the regions labelled with each number (eg if an answer to a question in the red section is 201304, colour the regions labelled 20, 13 and 4 red), you will reveal a Christmas themed picture.
If you want to try the card yourself, you can download
this pdf
. Alternatively, you can find the puzzles below and type the answers in the boxes. The answers will be automatically be split into two digit numbers, and the regions will be coloured...
Grey/black

1.
How many odd numbers can you make (by writing digits next to each other, so 13, 1253, and 457 all count) using the digits 1, 2, 3, 4, 5, and 7 each at most once (and no other digits)?
Answer

2.
Carol made a book by stacking 40300 pieces of paper, folding the stack in half, then writing the numbers 1 to 161200 on the pages. She then pulled out one piece of paper and added up the four numbers written on it. What is the largest number she could have reached?
Answer

3.
What is the sum of all the odd numbers between 0 and 130376?
Answer


White/yellow

4.
There are three cards with integers written on them. The pairs of cards add to 31, 35 and 36. What is the sum of all three cards?
Answer

5.
What is the volume of the smallest cuboid that a square-based pyramid with volume 1337 can fit inside??
Answer

6.
What is the lowest common multiple of 305 and 671?
Answer


Red

7.
Holly rolled a huge pile of dice and added up all the top faces to get 6136. She realised that the probability of getting 6136 was the same as getting 9999. How many dice did she roll?
Answer

8.
How many squares (of any size) are there in a 14×16 grid of squares?
Answer

9.
Ivy picked a number, removed a digit, then added her two numbers to get 155667. What was her original number?
Answer

Similar posts
Comments
Comments in green were written by me. Comments in blue were not written by me.