Blog
2013-12-23
Here is a collection of Christmas relates mathematical activities.
Flexagons
I first encountered
flexagons
sometime around October 2012. Soon after, we used
this template
to make them at school with year 11 classes who had just taken GCSE papers as a fun but mathematical activity. The students loved them. This lead me to adapt the template for Christmas: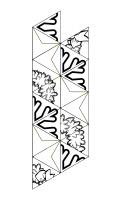 And here is an uncoloured version of the template on that site if you'd like to colour it yourself and a blank one if you'd like to make your own patterns:
Fröbel stars
I discovered the Fröbel star while searching for a picture to be the
Wikipedia Maths Portal
picture of the month for December 2013. I quickly found
these very good instructions
for making the star, although it proved very fiddly to make with paper I had cut myself. I bought some
5mm quilling paper
which made their construction much easier. With a piece of thread through the middle, Fröbel starts make brilliant tree decorations.
Similar posts
Comments
Comments in green were written by me. Comments in blue were not written by me.