Blog
The end of coins of constant width
2017-03-27
Tomorrow, the new 12-sided one pound coin is released.
Although I'm excited about meeting this new coin, I am also a little sad, as its release ends the era in which all British coins are shapes of constant width.
Shapes of constant width
A shape of constant width is a shape that is the same width in every direction, so these shapes can roll without changing height. The most obvious such shape is a circle. But there are others, including the shape of the seven-sided 50p coin.
As shown below, each side of a 50p is part of a circle centred around the opposite corner. As a 50p rolls, its height is always the distance between one of the corners and the side opposite, or in other words the radius of this circle. As these circles are all the same size, the 50p is a shape of constant width.
Shapes of constant width can be created from any regular polygon with an odd number of sides, by replacing the sides by parts of circles centred at the opposite corner. The first few are shown below.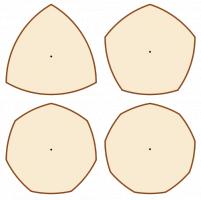 en wiki user LEMeZza
,
CC BY-SA 3.0
Pizza cutting
The slices in this solution are closely related to a triangle of constant width. Solutions can be made using other shapes of constant width, including the following, made using a constant width pentagon and heptagon (50p):
You can't use the shape of a new pound coin to cut a pizza though.
Similar posts
Comments
Comments in green were written by me. Comments in blue were not written by me.
© Matthew Scroggs 2012–2019