Blog
Christmas (2020) is coming!
2020-11-22
This year, the
front page
of mscroggs.co.uk will once again feature an Advent calendar, just like
in
the
five
previous
Decembers
. Behind each door, there will be a puzzle with a three digit solution. The solution to each day's puzzle forms part of a logic puzzle:
It's nearly Christmas and something terrible has happened: you've just landed in a town in the Arctic circle with a massive bag of letters for Santa, but you've lost to instructions for how to get to Santa's house near the north pole. You need to work out where he lives and deliver the letters to him before Christmas is ruined for everyone.
Due to magnetic compasses being hard to use near the north pole, you brought with you a special Advent compass. This compass has nine numbered directions. Santa has given the residents of the town clues about a sequence of directions that will lead to his house; but in order to keep his location secret from present thieves, he gave each resident two clues: one clue is true, and one clue is false.
The residents' clues will reveal to you a seqeunce of compass directions to follow. You can try out your sequences
on this map
.
Behind each day (except Christmas Day), there is a puzzle with a three-digit answer. Each of these answers forms part of a resident's clue. You must use these clues to work out how to find Santa's house.
Ten randomly selected people who solve all the puzzles, find Santa's house, and fill in the entry form behind the door on the 25th will win prizes!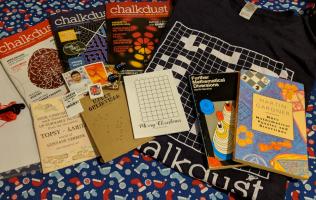 The winners will be randomly chosen from all those who submit the entry form before the end of 2020. Each day's puzzle (and the entry form on Christmas Day) will be available from 5:00am GMT. But as the winners will be selected randomly, there's no need to get up at 5am on Christmas Day to enter!
As you solve the puzzles, your answers will be stored. To share your stored answers between multiple devices, enter your email address below the calendar and you will be emailed a magic link to visit on your other devices.
To win a prize, you must submit your entry before the end of 2020. Only one entry will be accepted per person. If you have any questions, ask them in the comments below or on
Twitter
.
So once December is here, get solving! Good luck and have a very merry Christmas!
Similar posts
Comments
Comments in green were written by me. Comments in blue were not written by me.