Blog
Christmas (2018) is coming!
2018-11-25
This year, the
front page
of mscroggs.co.uk will once again feature an advent calendar, just like
last year
,
the year before
and
the year before
. Behind each door, there will be a puzzle with a three digit solution. The solution to each day's puzzle forms part of a logic puzzle:
It's nearly Christmas and something terrible has happened: one of Santa's five helpers—
Fred Metcalfe
,
Bob Luey
,
Jo Ranger
,
Meg Reeny
, and
Kip Urples
—has stolen all the presents during the North Pole's annual Sevenstival. You need to find the culprit before Christmas is ruined for everyone.
Every year in late November, Santa is called away from the North Pole for a ten hour meeting in which a judgemental group of elders decide who has been good and who has been naughty. While Santa is away, it is traditional for his helpers celebrate Sevenstival. Sevenstival gets its name from the requirement that every helper must take part in exactly seven activities during the celebration; this year's available activities were billiards, curling, having lunch, solving maths puzzles, table tennis, skiing, chess, climbing and ice skating.
Each activity must be completed in one solid block: it is forbidden to spend some time doing an activity, take a break to do something else then return to the first activity. This year's Sevenstival took place between 0:00 and 10:00 (North Pole standard time).
During this year's Sevenstival, one of Santa's helpers spent the time for one of their seven activities stealing all the presents from Santa's workshop. Santa's helpers have 24 pieces of information to give to you, but the culprit is going to lie about everything in an attempt to confuse you, so be careful who you trust.
Behind each day (except Christmas Day), there is a puzzle with a three-digit answer. Each of these answers forms part of a fact that one of the helpers tells you. You must work out who the culprit is and between which times the theft took place.
Ten randomly selected people who solve all the puzzles and submit their answers to the logic puzzle using the form behind the door on the 25th will win prizes!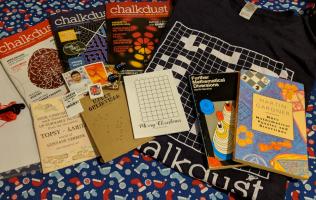 The winners will also receive one of these medals: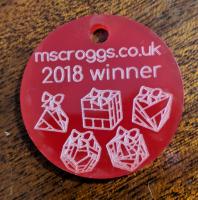 As you solve the puzzles, your answers will be stored. To share your stored answers between multiple devices, enter your email address below the calendar and you will be emailed a magic link to visit on your other devices.
Behind the door on Christmas Day, there will be a form allowing you to submit your answers. The winner will be randomly chosen from all those who submit the correct answer before the end of 2018. Each day's puzzle (and the entry form on Christmas Day) will be available from 5:00am GMT. But as the winners will be selected randomly, there's no need to get up at 5am on Christmas Day to enter!
To win a prize, you must submit your entry before the end of 2018. Only one entry will be accepted per person. If you have any questions, ask them in the comments below or on
Twitter
.
So once December is here, get solving! Good luck and have a very merry Christmas!
Similar posts
Comments
Comments in green were written by me. Comments in blue were not written by me.