Blog
Christmas (2017) is coming!
2017-11-28
This year, the
front page
of mscroggs.co.uk will once again feature an advent calendar, just like
last year
and
the year before
. Behind each door, there will be a puzzle with a three digit solution. The solution to each day's puzzle forms part of a logic puzzle:
It's nearly Christmas and something terrible has happened: Santa and his two elves have been cursed! The curse has led Santa to forget which present three children—Alex, Ben and Carol—want and where they live.
The elves can still remember everything about Alex, Ben and Carol, but the curse is causing them to lie. One of the elves will lie on even numbered days and tell the truth on odd numbered days; the other elf will lie on odd numbered days and tell the truth on even numbered days. As is common in elf culture, each elf wears the same coloured clothes every day.
Each child lives in a different place and wants a different present. (But a present may be equal to a home.) The homes and presents are each represented by a number from 1 to 9.
Santa has called on you to help him work out the details he has forgotten. Behind each day (except Christmas Day), there is a puzzle with a three-digit answer. Each of these answers forms part of a fact that one of the elves tells you. You must work out which combination of clothes each elf wears, which one lies on each day, then put all the clues together to work out which presents need delivering to Alex, Ben and Carol, and where to deliver them.
Ten randomly selected people who solve all the puzzles and submit their answers to the logic puzzle using the form behind the door on the 25th will win prizes! A selection of the prizes are shown below, and will be added to throughout December.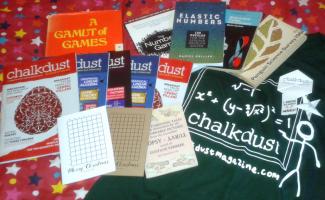 The ten winners will also will one of these winners' medals: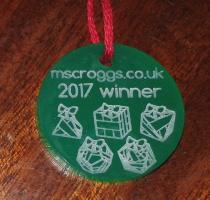 As you solve the puzzles, your answers will be stored. This year, there is a new feature allowing you to synchronise your answers between multiple computers: simply enter your email address below the calendar, and you will be emailed a magic link to visit on your other devices.
Behind the door on Christmas Day, there will be a form allowing you to submit your answers. The winner will be randomly chosen from all those who submit the correct answer before the end of 2017. Each day's puzzle (and the entry form on Christmas Day) will be available from 5:00am GMT. But as the winners will be selected randomly, there's no need to get up at 5am on Christmas Day to enter!
To win a prize, you must submit your entry before the end of 2017. Only one entry will be accepted per person. If you have any questions, ask them in the comments below or on
Twitter
.
So once December is here, get solving! Good luck and have a very merry Christmas!
Similar posts
Comments
Comments in green were written by me. Comments in blue were not written by me.