Sunday Afternoon Maths XL
The sixth cent
You toss 6 fair coins, and I toss 5 fair coins. What is the probability that you get more heads than I do?
Two triangles
The three sides of this triangle have been split into three equal parts and three lines have been added.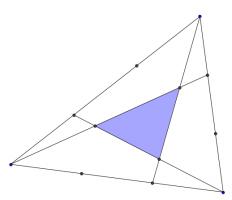 What is the area of the smaller blue triangle as a fraction of the area of the original large triangle?