Blog
2016-09-06 16:26:56
Tube Map Kaleidocycles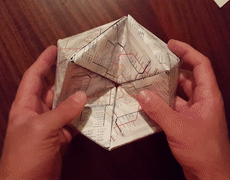 In this blog post, I will tell you how to make a kaleidocycle from tube maps.
You Will Need
Making the Modules
First, fold the cover of a tube map over. This will allow you to have the tube map (and not just its cover) on the faces of your shape.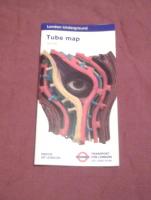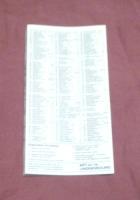 With the side you want to see facing down, fold the map so that two opposite corners touch.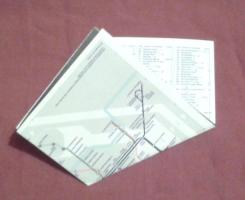 For this step, there is a choice of which two corners to connect: leading to a right-handed and a left-handed piece. You should make 6 of each type for your kaleidocycle.
Finally, fold the overhanding bits over to complete your module.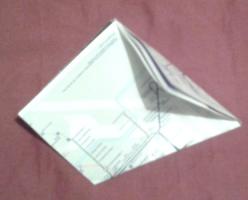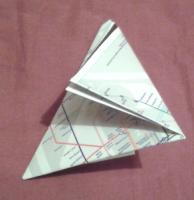 The folds you made when connecting opposite corners will need to fold both ways when you flex your shape, so it is worth folding them both ways a few times now before continuing.
Putting it Together
Once you have made 12 modules (with 6 of each handedness), you are ready to put the kaleidocycle together.
Take two tube maps of each handedness and tuck them together in a line. Each map is tucked into one of the opposite handedness.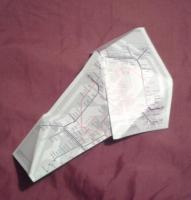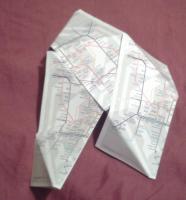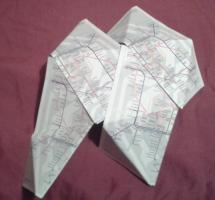 The four triangles across the middle form a net of a tetrahedron. Complete the tetrahedron by putting the last tab into the first triangle. Glue these together.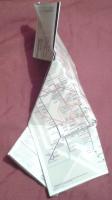 Take two more tube maps of the opposite handedness to those at the top of the tetrahedron. Fit them into the two triangles poking out of the top of the tetrahedron to make a second tetrahedron.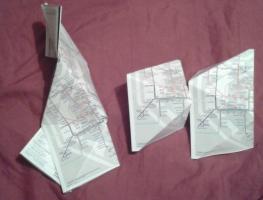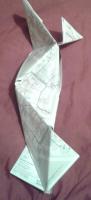 Repeat this until you have five connected tetrahedra. Finally, connect the triangles poking out of the top and the bottom to make your kaleidocycle.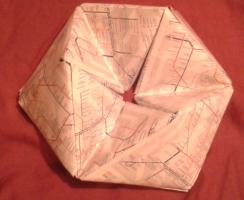 Similar Posts
Comments
Comments in green were written by me. Comments in blue were not written by me.
2016-03-30 10:19:50
Dragon Curves
Take a piece of paper. Fold it in half in the same direction many times. Now unfold it. What pattern will the folds make?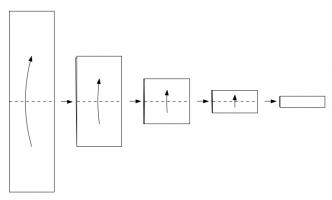 I first found this question in one of
Martin Gardner's
books. At first, you might that the answer will be simple, but if you look at the shapes made for a few folds, you will see otherwise:

The curves formed are called dragon curves as they allegedly look like dragons with smoke rising from their nostrils. I'm not sure I see the resemblance: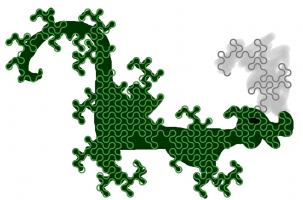 As you increase the order of the curve (the number of times the paper was folded), the dragon curve squiggles across more of the plane, while never crossing itself. In fact, if the process was continued forever, an order infinity dragon curve would cover the whole plane, never crossing itself.
This is not the only way to cover a plane with dragon curves: the curves tessellate.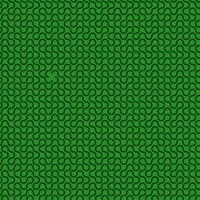 Dragon curves of different orders can also fit together: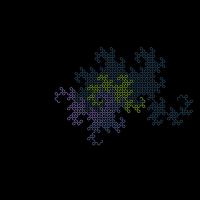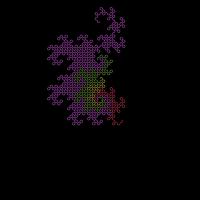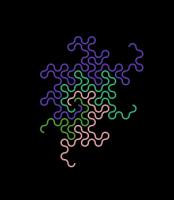 Drawing Dragon Curves
To generate digital dragon curves, first notice that an order \(n\) curve can be made from two order \(n-1\) curves: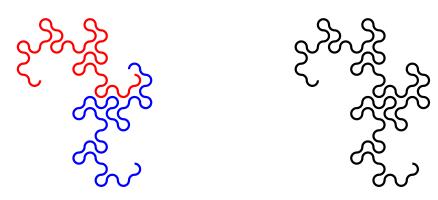 This can easily be seen to be true if you consider folding paper: If you fold a strip of paper in half once, then \(n-1\) times, each half of the strip will have made an order \(n-1\) dragon curve. But the whole strip has been folded \(n\) times, so is an order \(n\) dragon curve.
Because of this, higher order dragons can be thought of as lots of lower order dragons tiled together. An the infinite dragon curve is actually equivalent to tiling the plane with a infinite number of dragons.
If you would like to create your own dragon curves, you can download the Python code I used to draw them from
GitHub
. If you are more of a thinker, then you might like to ponder what difference it would make if the folds used to make the dragon were in different directions.
Similar Posts
Comments
Comments in green were written by me. Comments in blue were not written by me.
2015-03-24 19:47:05
Tube Map Stellated Rhombicuboctahedron
A while ago, I made this (a stellated rhombicuboctahedron):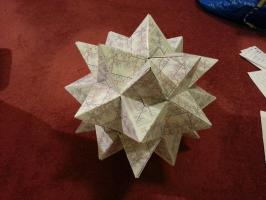 Here are some hastily typed instructions for
Matt Parker
, who is making one at this month's
Maths Jam
. Other people are welcome to follow these instructions too.
You Will Need
Making a Module
First, take a tube map and fold the cover over. This will ensure that your shape will have tube (map and not index) on the outside and you will have pages to tuck your tabs between later.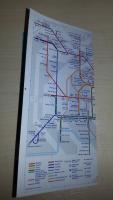 Now fold one corner diagonally across to another corner. It does not matter which diagonal you chose for the first piece but after this all following pieces must be the same as the first.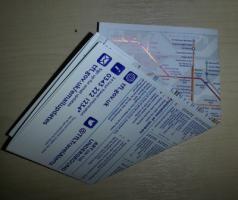 Now fold the overlapping bit back over the top.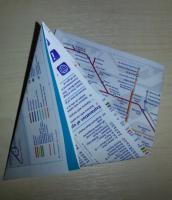 Turn it over and fold this overlap over too.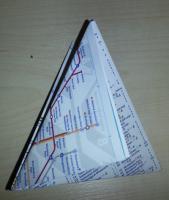 You have made one module.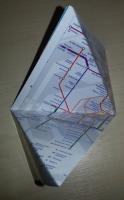 You will need 48 of these and some glue.
Putting it together
By slotting three or four of these modules together, you can make a pyramid with a triangle or square as its base.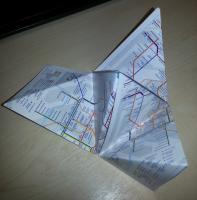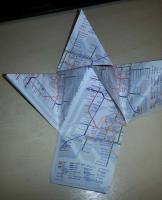 A stellated rhombicuboctahedron is a rhombicuboctahedron with a pyramid, or stellation on each face. In other words, you now need to build a rhombicuboctahedron with the bases of pyramids like these. A rhombicuboctahedron looks like this: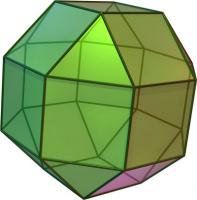 More usefully, its net looks like this: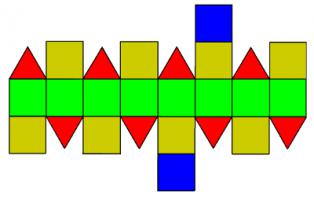 To build a stellated rhombicuboctahedron, make this net, but with each shape as the base of a pyramid. This is what it will look like 6/48 tube maps in: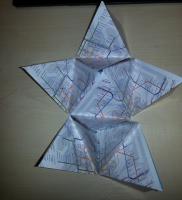 If you make on of these, please
tweet me
a photo so I can see it!
Edit:
Proof
that these instructions can be followed: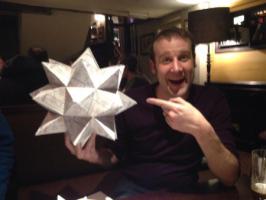 Similar Posts
Comments
Comments in green were written by me. Comments in blue were not written by me.
2015-03-03 21:18:46
Design Your Own Flexagon
This post explains how to make a trihexaflexagon with and images you like on the three faces.
Making the Template
To make a flexagon template with your images on, visit
mscroggs.co.uk/flexagons
. On this page, you will be able to choose three images (png, jp(e)g or gif) which will appear on the faces of your flexagon. Once you have created the template, save and print the image it gives you.
The template may fail to load if your images are too large; so if your template doesn't appear, resize your images and try again.
Making the Flexagon
First, cut out your printed tempate. For this example, I used plain blue, green and purple images.

Then fold and glue your template in half lengthways.

Next, fold diagonally across the blue diamond, being careful to line the fold up with the purple diamond. This will bring two parts of the purple picture together.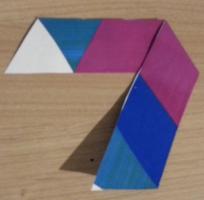 Do the same again with the blue diamond which has just been folded into view.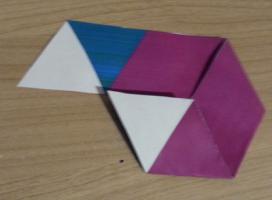 Fold the green triangle under the purple.
And finally tuck the white triangle under the purple triangle it is covering. This will bring the two white triangles into contact. Glue these white triangles together and you have made a flexagon.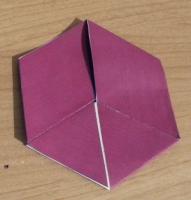 Flexing the Flexagon
Before flexing the flexagon, fold it in half through each pair of corners. This will get it ready to flex in the right places.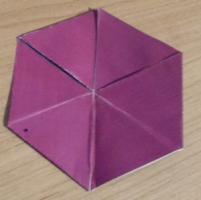 Now fold your flexagon into the following position.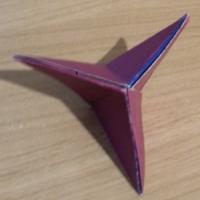 Then open it out from the centre to reveal a different face.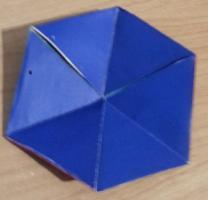 This video
shows how to flex a flexagon in more detail.
Similar Posts
Comments
Comments in green were written by me. Comments in blue were not written by me.
2015-01-31 16:40:09
Tube Map Platonic Solids, pt. 3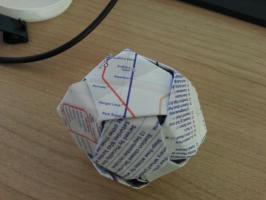 After my
talk at EMF camp
, I was shown the following better method to fold a dodecahedron.
Making the modules
First, take a tube map, cut apart all the pages and cut each page in half.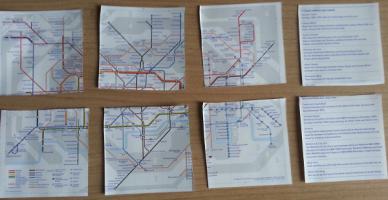 Next, take one of the parts and fold it into four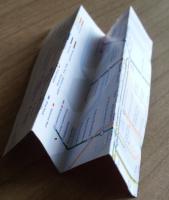 then lay it flat.

Next, fold the bottom left corner upwards

and the top right corner downwards.

Finally, fold along the line shown below.

You have now made a module which will make up one edge of the dodecahedron. You will need 30 of these to make the full solid.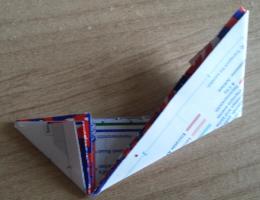 Putting it Together
Once many modules have been made, then can be put together. To do this, tuck one of the corners you folded over into the final fold of another module.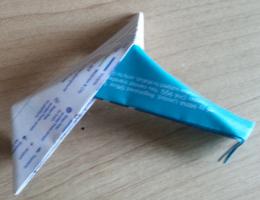 Three of the modules attached like this will make a vertex of the dodecahedron.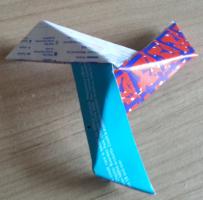 By continuing to attach modules, you will get the shell of a dodecahedron.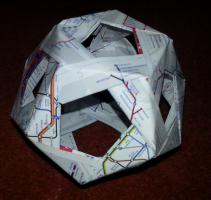 To make the dodecahedron look more complete, fold some more almost-squares of tube map to be just larger than the holes and tuck them into the modules.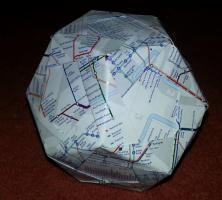 Similar Posts
Comments
Comments in green were written by me. Comments in blue were not written by me.